Celebratory Processions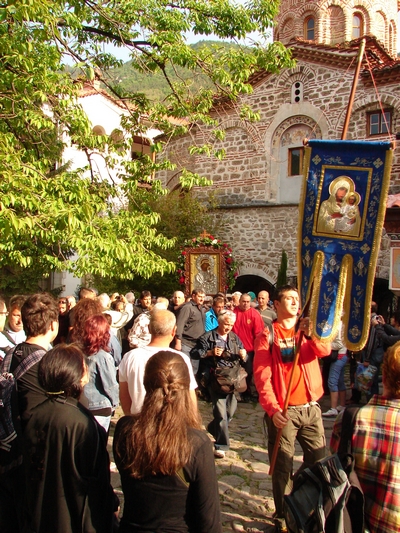 The first and oldest
procession
was performed on the second day of Easter by the monastery monks, at the
Kluvia
(the place where the famous icon of the
Holy Virgin of Bachkovo
Monastery had been hidden and later found). It begins with song singing from the monastery temple, where the icon is put in a special frame-carrier and it continues until it reaches, through the mountain, the
Kluvia
. The church serves a mass and an offering (of boiled mutton/lamb) is given to the pilgrims.
Hundreds take part in the procession, not only from Assenovgrad but also from the region of Plovdiv and from the rest of the country, too. There are a lot of volunteers that come to help with carrying the icon and assisting the celebrations. Later on, the icon is brought back to the monastery, followed by the singing pilgrims. When the icon carried inside the monastery many people desire to pass underneath its frame, for health and to receive a blessing from the Holy Virgin.
For many years, this procession had been the only occasion on which the icon has been taken out of the monastery. For the last ten years, with a decision of the Holy Synod, it has been brought outside the monastery on three occasions: for liberation of the Bulgarian doctors in Libya, when it was displayed together with the miraculous icons form the Rila Monastery and from the Cathedral Temple 'St.Alexander Nevski' in Sofia; for pilgrimage to Varna and once to Silistra.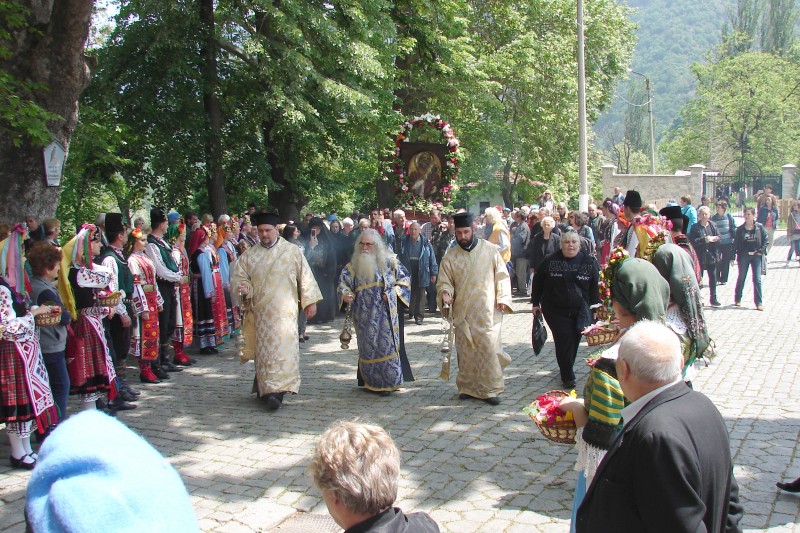 Welcoming of the miraculous icon from Asenovgrad on the 25th day after Easter.