Temple of St. Nicolas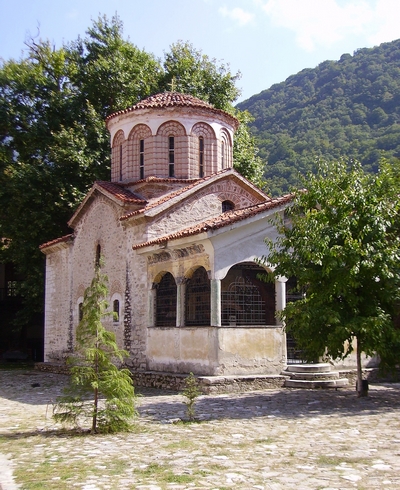 This is the third church in the monastery and it had been built in 1936 in the Southern Monastery Yard. Its architectural foundation is based on a cross shape. The whole temple has been decorated by the famous painter Zahari Zograf too. The frescoes include scenes from the Last Judgement, heaven, hell and traditional depictions of saints and sinners. Among those, Zahari had included portraits of various wealthy citizens and coquettes from Plovdiv, who were put in hell for their unpatriotic behavior and dissipated life. A self-portrait of the master lies next to those of the abbots of the time – Matey from Sliven and deputy abbot Ananii. An inscription is written above Zahari's head: 'Zahari Hristovich, painter from Samokov; that was done by my hand'.
The church is in operation today and is used for baptizing.