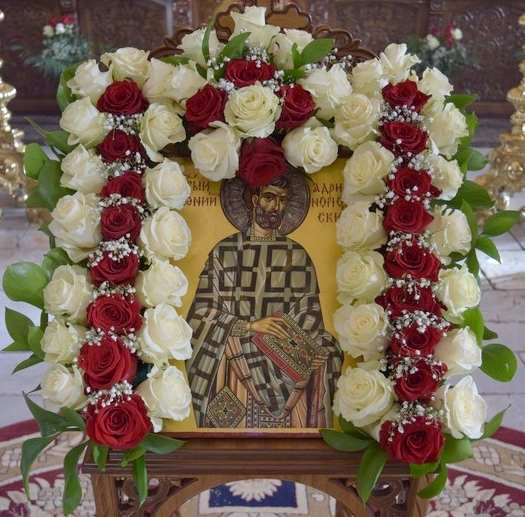 ICON OF ST. SIONII OF ADRIANIPOLIS       
                                SOLEMN SERVICE IN THE BACHKOVO MONASTERY IN MEMORY OF ST. SIONIY OF ADRIANOPOLIS
 
            Today, 01/22/2020 the day on which the Holy Orthodox Church commemorates the memory of Adrianople Presbyter Sionius, glorified Christ with his martyrdom in the 9th Century. The abbot of the Bachkovo and Troyan monasteries, Bishop Sionius of Velich served a solemn service in honor of his patron of heaven in the cathedral temple of the Bachkovo monastery.
            The Right Reverend was assisted by archimandrite Gregory, of the monastery, archim. Nicanor, abbot of the Chernogorski monastery, hieromonk Stefan, from the Troyan monastery, visiting clergymen of the Bulgarian orthodox church and the monastery brothers.
            The Bishop of Znepolski Arseniy, who came to offer his congratulations personally to Bishop Sioniy, and the Orthodox people take prayerful participation in the ministry. The service was decorated with the chants of visiting church singers.
 
            At the end of the worship, an archive. Nicanor read the solemn address of His Holiness the Bulgarian Patriarch and Metropolitan Neophyte of Sofia to Bishop Sionius.
 
 
Congratulations on the holiday also provided an archim. Gregory, on behalf of the brothers of the Bachkovo Monastery and hieromonk Stefan on behalf of the brothers of the Trojan Monastery.
 
Bishop Sionius has thanked for the greetings and has called on the heavenly grace of St. Sionius of Adrianople to be on all those who took part in the feast.